From Contact Tracing to Outbreak Notification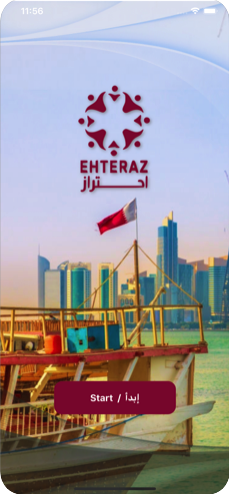 Call for Participation
This post is a call for participation for design thinkers – please email or tweet @drwhassan.
Contact tracing has not been met with enthusiasm from the general public. Several applications have been pulled off the shelf, others are being revisited [ref]. Some countries have mandated their use, we cite a couple of examples, State of Qatar with the Ehteraz ("careful") application, which suffered a breach. China released "close contact detector" an application that defines contact as:
a) People who work closely together, share a classroom or live in the same home
b) Medical staff, family members or other people who have been in close contact with patients and their caregivers
c)Passengers and crew who have been on planes, trains and other forms of transport with an infected person
In Canada, The Office of the Information and Privacy Commissioner of Alberta released its report of the ABTraceTogether app. The contact tracing app was found to pose a "significant security risk" according to a report by the province's privacy watchdog.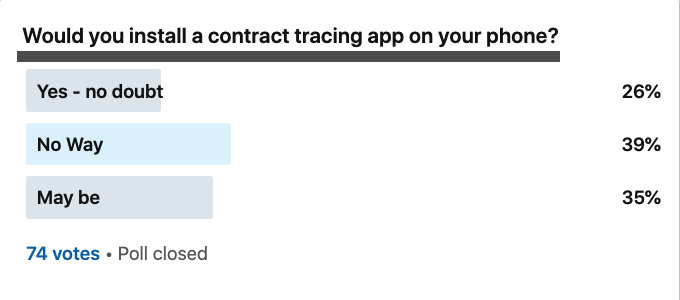 In a recent informal poll, I have conducted on my page, the proportion of people who were comfortable with installing a contact tracing application was 26%. Most of the people in the No Way camp where experienced professionals with in-depth knowledge of privacy, security, and information technology.
Outbreak notification vs contact tracing
Contact Tracing
Simply said, contact tracing attempts to build a network of every physical interaction and tracing it backwards in case there was an infection.
Contact tracing app are state centric, require a centralized store, and control
Most implementations of contact tracing require a centralized data store with varying levels of power given to officials and businesses.
Outbreak Notification
Is a subscription based model, where citizens are notified if places they visited have had anyone with an infection. The goal of this solution is to notify the individual to make action.
Outbreak notifications are citizen centric, do not require the installation of a mobile application, and the individual has the driver seat
Technical Differences
From mathematical modelling, contact tracing resembles more a neural network. One where every citizen can have as many connections as the population size. This model is subject to computing challenges. The Outbreak notification on the other hand is a distributed model that is connected by the edges. The load and computational network is at the business/location level.
Privacy in Design Principles
Outbreak notification has been designed and built with privacy and security built into the design.
Next Steps
KI Design is building Outbreak notification service that is:
App-less: it doesn't require users to install any apps.
Server-less: Does not store user and tracking data in a hosting environment.
Privacy in Design: Design artifacts are built with privacy in mind.
We are calling for contributors that could asset in the design and promotion aspects.
For more information please reach out to me at wael@kidesign.io or via twitter @drwhassan
Founder and CEO of KI Design